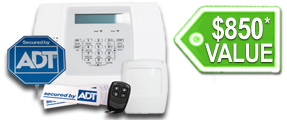 A Complete Home Security System

*Wirelesscontrol panel
*Large Illuminated Keypad Display
*Door Contacts and Motion Detector
*Pet motion detector
*High decibel siren
*1 keychain remote that arms and disarms

Free security system activation to ADT's 24/7 monitoring centers and registration with your local police and fire departments
Free keychain remote, allowing you to arm and disarm your home alarm system from a distance.

Choose ADT, America's #1 company for homealarm security system monitoring

Founded over 100 years ago
Free risk assessment
Around-the-clock monitoring
User-friendly arm, disarm, and status buttons
Keychain remote
Back-up power
Save up to 20% on homeowners insurance
All residential equipment comes with a product warranty.
Home Security Equipment Goes Wireless!
Using home security equipment with a 24/7 monitoring service is like having another set of eyes on your residence – the friendly, watchful and concerned eyes of people who are in your corner and want to help you increase the security of your home. When your home alarm is monitored by a trustworthy, reputable company, you can have greater peace of mind at all times, whether you're home, at work for the day, or away on vacation. This is especially the case when your wireless security equipment is being monitored by America's #1 home security monitoring company: ADT Security Services.
The Basic System includes the following equipment:
1. Infrared Interior Motion Detector
The ADT Monitored infrared interior motion detector offers an additional security barrier to your home that senses movement up to 75 feet away and can be adjusted to make allowances for pet motions to help reduce false alarms.
2. Loud High-Decibel Siren
The built in siren on your ADT Monitored Home Security System is loud. The piercing, high level noise is enough to help scare burglars away and notify you that the systems is activated
3. ADT Window Decals & Yard Sign
All home alarm systems come with a sturdy ADT Security Services yard sign and ADT window decals that warn potential intruders your property is securely monitored by ADT Security Services.
4. Battery Backup
Even if your power goes out, the battery back up will continue to provide power to your system. The battery backup system can provide continuous protection in severe weather, or if your main electrical power is lost for any reason.
5. The Control Panel
The heart of your ADT Monitored Home Alarm Security System is called the control panel and is normally installed in your basement.
What Home Security Equipment with Monitoring Services Can Do for You
Today's wireless home alarm systems do so much more than scare potential predators away with a high decibel, clearly audible alarm (although they still do that, too).
Additionally, they notify a central monitoring station facility that responds to your emergency immediately. When you trust ADT to provide your wireless security equipment monitoring, a trained, experienced agent can answer your alarm signal instantly, contact law enforcement (or fire/medical personnel), and stay in touch with you until the help you need arrives.
That's right: ADT has your back, and they have it 365 days a year. After all, would you expect the #1 name in home security to take days off? Weekends, holidays, and all hours of the night, ADT is there to provide you with the extra protection you desire. And in addition to motion detector sensors that identify the presence of intruders and activate your security alarm, SafeStreetsUSA can also provide you with equipment that complements your home security system to help keep your family even safer. Consider the following life safety scenarios that can be easily detected with add-on security equipment:
Fire and excessive heat
Flood conditions
Poisonous carbon monoxide
When the wireless fire, flood or carbon monoxide alarm signal reaches the central station, the agent can still send the appropriate personnel to respond to your emergency situation – even if you are not in the home or able to respond.
Wireless Home Alarm Equipment with Motion Detector Also Means…
…That you can go wireless with your home telephone system as well. In other words, there's no need to keep a landline phone in the home just for the sake of your home security equipment. If you use cellular phones as your primary telephone system, don't worry: Your hands free, two-way voice communication panel will keep you in contact with the ADT agent at the central station during the emergency. Wireless security equipment is what home alarm systems always should have been; finally, security systems have caught up to the way homeowners really live.
Where can you go for wireless security equipment? SafeStreetsUSA, an authorized dealer of ADT Security Services, can create a customized security package with the home alarm products and monitoring services that will best meet your needs. For details on how you can get free* home security equipment, call SafeStreetsUSA today!
Call 877-855-8242 Today!
For questions on wireless home security equipment, call today; or, complete the above contact form to receive a prompt reply from a representative.